You've got staff that's been through basic training somewhere in the past but it's become obvious that wasn't enough. You have a crisis on your hands. You need your people mission ready in a virtual war zone of rapidly changing regulations. You don't want them off the floor for lengthy classroom instruction or slogging through videos and manuals that quickly become outdated. You want CareTrain's rapid deployment advantage.

CareTrain deploys strategically targeted courses of your choosing, and does so with greater efficiency and effectiveness than you find with traditional methods of training. This means training based on issues you face TODAY. We map changing dementia regulations, identify training gaps in your staff, and track individual as well as staff-wide competency and compliance. All this with courses that are accessible at the touch of any keyboard: at home, in the office, at the library, or in the trenches on a laptop.

Contact us us about Corporate Solutions. Ask how Rapid Deployment can cut your cost while building corporate-wide staff competency. To be a leader in this industry, you must invest in your people. With CareTrain, that investment doesn't have to devastate your bottom-line or your staff schedule.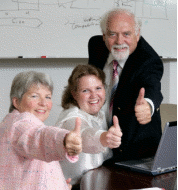 Flexible: reaches your entire corporate network; tracks all progress





Efficient: Achieves "real competency" within your organization. Records that training occured.



Meets training demands without burdening management