Get New Facilities Up & Running--Fast!
The starter's pistol has been fired; Your new Assisted Living facility must have a team that comes out of the blocks like Olympians. This business is a marathon, not a sprint so you need CareTrain's FastTrack Fitness Training to get them in proper condition to carry the torch.
FastTrack Fitness Training is our convenient, timely, and cost-effective way to help you get new employees in the door and on the floor without missing a beat. CareTrain's FastTrack Fitness Training allows your corporation to choose from our medal worthy, "state-of-the-art" curricula. We have a fitness menu of 'a la carte' choices as well as our New RCFE Employee Package which provides the 10 hours of training mandated by the state of California.
Flexible and Up-To-Date
CareTrain provides reports and analysis that track your company's training baseline better than a stopwatch. These reports from CareTrain will give you the data to project future needs and keep you in stride. You'd expect no less from your fitness coach.
We are regularly stretching and updating our library to reflect the most recent regulations. We can also customize courses when you have changes in corporate policy, so no one drops the baton.

Your people ARE your business—train them right the first time.

Contact us about Corporate Solutions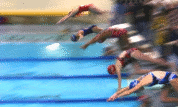 Superior training at a low technical investment





Multi-lingual courses bridge language barrier



24 hour a day flexibility



Reduced risk & improved regulatory compliance





Ability to track & report measureable results





Secure storage, access and daily backups