Improvement Through Benchmarking
Benchmarking is all about improving results by seeking and sharing best practices. Evaluations glean straight answers about staff abilities. If you need to know what an employee is doing, what she excels at, what feedback he has, or what challenges he's facing, a benchmark evaluation can get the information you need.
Benchmark evaluations get responses and that leads to solutions. The evaluation reveals the exact information you're after because you decide on the questions. You don't waste your time wading through formulaic questionnaires that offer no insight into your particular situation.
The process is fast because it's on-line. Staff can log on, zip through the questions at their leisure, and upload it without it sitting on the desk of some middleman.
Staff members are candid because you've taken the time to ask their input. It's amazing how many managers don't ever take the time to get the thoughts of those on the front lines—and it shows in the attitudes of most workers. When communication is only from the top down, employees can get discouraged and that affects how well they perform.
Make informed decisions rather than guessing at what your people want or need. Suddenly sitting down with a staffer with whom you've never even spoken is a pretty intimidating experience for the worker and not likely to reap the harvest of information you were after. An on-line, benchmark evaluation can put your finger on the pulse of your organization. And that translates into a better decision making process.

How It Works

The process is quick and efficient. You pinpoint a topic that interests you, write the survey questions, and identify the target audience. CareTrain collects the data for you in a report. No one has to see the results but you, if that's what you wish.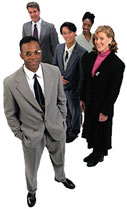 Evaluation findings are provided in word document format and in a response matrix.





CareTrain publishes the findings to Corporation.



CareTrain works with Corporation to identify future trends and new topics for evaluation.